Neolithic
1. Experiments in Hurdle Making
2. The Long Barrow at Haddenham
1. Experiments in Hurdle Making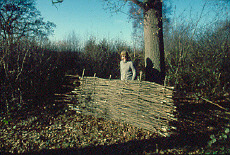 Neolithic hurdles, woven from hazel, have been found in Waton Heath, in the Somerset Levels. Following a report in the journal Antiquity that it would take eight hours to make a hurdle, the aim of this experiment was to estimate the time taken to weave one of these hurdles, using Neolithic tools. Hazel stems were selected and prepared and the hurdle was woven, this took two experienced men (John Coles and Richard Darrah) less than two hours, making the manufacture of hurdles a much simpler and faster process than was previously thought.
Coles, J.M. and Darrah, R., 1977. Experimental Investigations in Hurdle-Making. In Somerset Levels Papers. Stephen Austin, 1977. pp. 32-38
2. The Long Barrow at Haddenham
Oak timbers were found at the Neolithic barrow excavated in Haddenham by Cambridge University from 1981 to 1987. Richard worked on several areas of the excavation: the evidence for tangential splitting as the method used to produce the large planks of wood and a description of the trees from which the timber was sourced. He also conducted the Minsmere experiment (see below). The main conclusions were: That the evidence suggested the main timbers used in construction at Haddenham were produced by tangential splitting. Most of the timbers appear to have come from one large oak tree with a 10m trunk and 1.5m diameter. This would have grown in a high forest.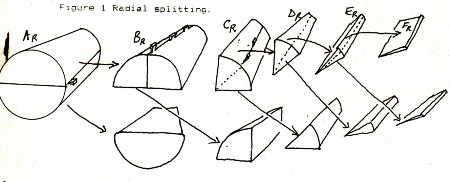 Radial Splitting

Tangiential Splitting
Darrah, R. 2006. Wood Technology. In Evans, C., Hodder, I., A Woodland Archaeology: Neolithic Sites at Haddenham. McDonald Institute Monographs, 2006 p.118-130
3. The Minsmere Experiment
As part of Richards evaluation of the Barrow at Haddenham, the Minsmere experiment was undertaken. A large oak tree was split in order to demonstrate splitting techniques and estimate time requirements. This allowed him to demonstrate that the planks had been tangentially split. The time taken to split the timbers needed for the structure would have been approximately 40 hours.
Tangentially Split Planks – these planks were 0.6m wide from a 1.2m diameter oak tree.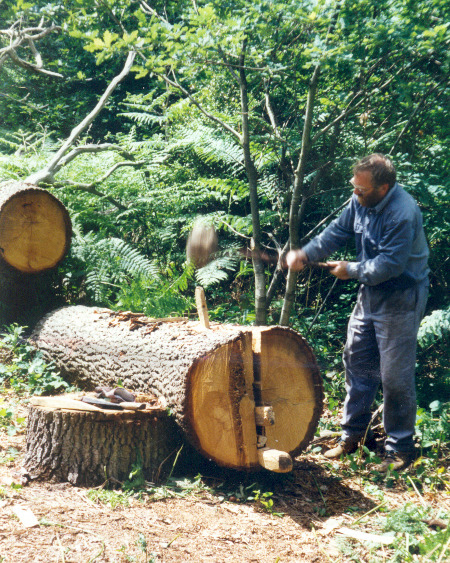 Richard splitting an oak tree using only wooden tools (Picture taken by Damien Goodburn)