Anglo-Saxon
1. Anglo-Saxon Timber Buildings


1. Anglo-Saxon Timber Buildings

All buildings, except important churches and defensive structures, were built of timber during this period. Since there is only one surviving timber construction from the period, evidence about Anglo-Saxon buildings comes from waterlogged remains and the stains left in the ground by rotted posts. This evidence shows that buildings were constructed using unseasoned oak, which was felled by iron axe, split with wooden wedges and then hewn by axe. There were two types of buildings, those with a sunken pit and central post and those with only external posts. Wattle and daub was often used as infill.


Darrah, R., 1999. Timber Building. In Lapidge, M., Blair, J., Keynes, S. and Scragg, D., Ed. The Blackwell Encyclopaedia of Anglo-Saxon England. Blackwell Publishers, 1999. pp. 448-449.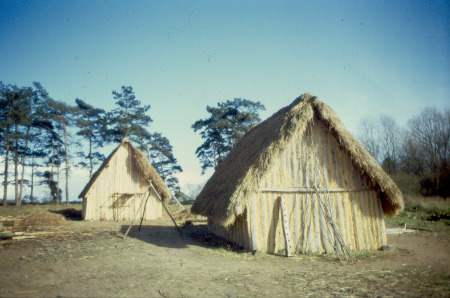 A Saxon building at West Stow, which Richard helped to build. Photo © Richard Darrah.

http://www.weststow.org/sebc_heritage/west-stow-anglo-saxon-village.cfm
2. The Barrington Bed Burial, Edix Hill

During the excavation of an Anglo-Saxon cemetery at Edix Hill an undisturbed bed burial was uncovered, containing the remains of a young woman. None of the wood had survived, however 3 sets of recognizable metal objects were found and these had evidence of the wood grain in the form of iron corrosion. After careful consideration of the findings, a reconstruction was made using the evidence from the wood grain and our understanding of Anglo-Saxon wood working techniques. This helped to give an understanding of the design of the bed and the function of the metal objects.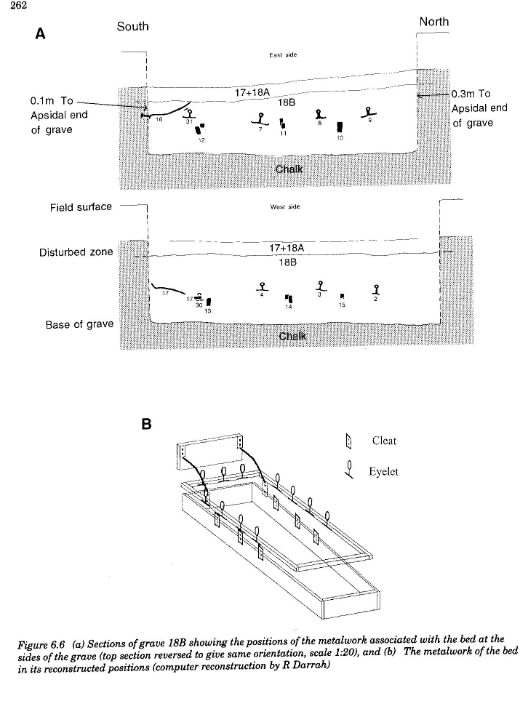 Diagram of the bed, from the Barrington Bed Burial at Edix Hill. Diagram by Richard Darrah.


Darrah, R., Speake, G., Watson, J., Funerary beds (Graves 18 and 60). In Malim, T., Hines, J., The Anglo-Saxon Cemetery at Edix Hill (Barrington A), Cambridgeshire. CBA, 1998. pp. 261-268

For some background on saxon bed burials see Wikipedia
3. Coddenham Bed Burial

This is another Saxon bed burial. Richard did a complete reconstruction of the bed, which was filmed by the BBC for the series Hidden Treasure. The bed is now on display in the Ipswich museum.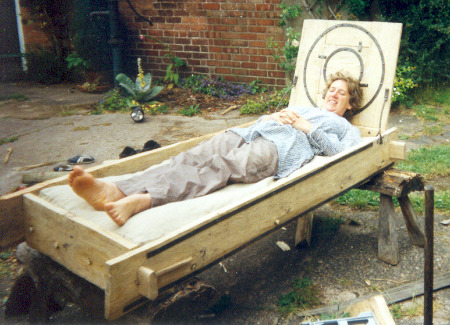 The Coddenham Bed reconstruction (with Zoe Matthews modelling), Hodnet, Shropshire. Photo © Richard Darrah.
Watson J. Laid to Rest –two Anglo-Saxon chambered graves reconstructed. Research News, WINTER 2005-06, no 2, 6-9. ISSN 1750-2446. Available
online
Penn K (2011). The Anglo-Saxon Cemetery at Shrubland Hall Quarry, Coddenham, Suffolk. East Anglian Archaeology Monograph, vol 139. ISBN: 9780956874702
4. The Street House Bed Burial

A bed burial was unearthed at Street House in Yorkshire. Richard worked with the archaeologists, Steve Sherlock and Mark Simmons, in identifying the probable structure of the bed and created a full scale reconstruction of it (now in Kirkleatham Museum, Redcar, see www.redcar-cleveland.gov.uk/museums).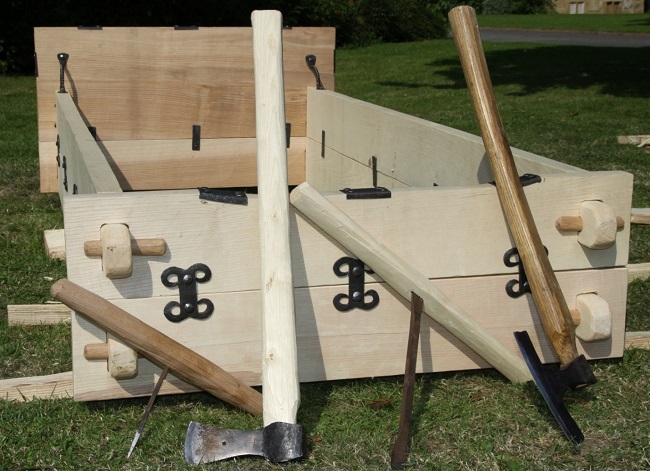 Richard's reconstruction of the Street House bed, with the awl, felling /crosscutting axe, spoon bit augur and broad axe used in the reconstruction. Photo © Kirkleatham Museum.


Sherlock, Steve; Simmons, Mark (June 2008). "A seventh-century royal cemetery at Street House, north-east Yorkshire, England". Antiquity 82 (316). ISSN 0003-598X. Available online at http://antiquity.ac.uk/projgall/sherlock/index.html

5. The Well at Hamwic

As part of the excavation of an Anglo-Saxon town at Hamwic a well was uncovered. The wooden well lining and 3 pieces of timber which may have formed a wooden yoke were recovered. The lining was constructed from high quality oak using a range of methods. There was evidence for both tangential and radial splitting and also the use of broad axes.

Darrah, R., 1997. The timber well lining. In Andrews, P. Ed, Excavations at Hamwic: Volume 2. Council for British Archaeology, 1997. pp. 192


6. Working Unseasoned Oak

The Anglo-Saxons are known to have built using unseasoned oak. This is oak that has been freshly felled. A comparison is made between personal experiences of working with both seasoned and unseasoned oak. Anglo-Saxon tools: wedges, axes and adzes were used in splitting, hewing and preparing joints. The choice of appropriate timber is important. The tool marks that different techniques left on the wood could be useful in identifying which techniques were used on archaeological material.


Darrah,R., 1982. Working Unseasoned Oak. In McGrail, S. Ed, Woodworking Techniques before A.D. 1500. BAR, 1982. pp. 219-229